Avalanche Canada Widget Relaunched
In Mobile, Website
Savage Marketing recently launched Version II of an Avalanche Bulletin Internet widget for Avalanche Canada. Back Country Access (BCA) is sponsoring the latest version.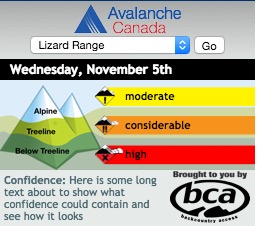 Savage Marketing has launched version II of the avalanche bulletin internet widget in partnership with Avalanche Canadian and sponsored by Back Country Access. A widget is a compact application designed to display information on a website or web based media device.
"We appreciate Savage Marketing's help in spreading the word about current avalanche conditions," said Gilles Valade, Executive Director of Avalanche Canada. "Building awareness is an important step in public avalanche safety."
Version II works with Avalanche Canada's new branding, awareness icons and Confidence rating. Marcus Rowan of BCA commented, "We are please to support helping increase awareness of the avalanche conditions. BCA is committed to safety first."
Version II of the widget was also reconfigured as a MRSS feed, a format for the distribution of content to function on Digital Signage networks. The Fernie Digital Signage Network brings the avalanche Bulletin to the public in high traffic locations.
The original internet widget was developed in 2010 with the objective increasing public awareness of current avalanche bulletins. This was achieved by making the widget available to webmasters to embed on the home pages of their websites. Some of these websites include:
backcountryskiingcanada.com
wayneflannavalancheblog.com
"It is a pleasure to provide communication solutions for Avalanche Canada" said Dan Savage, Director of SM. "Hopefully more backcountry users will travel with increased knowledge of the avalanche hazard as a result of this widget"
The widget can been downloaded in various sizes and for your specific region at: powdercanada.com
Savage Marketing is a strategic marketing, publishing and internet company based in Fernie BC.