New Avalanche Widget developed
In Marketing, Website
A new avalanche bulletin internet widget has developed by Savage Marketing (SM) in partnership with the Canadian Avalanche Centre (CAC). A widget is a compact application designed to display information on a website or web based media device.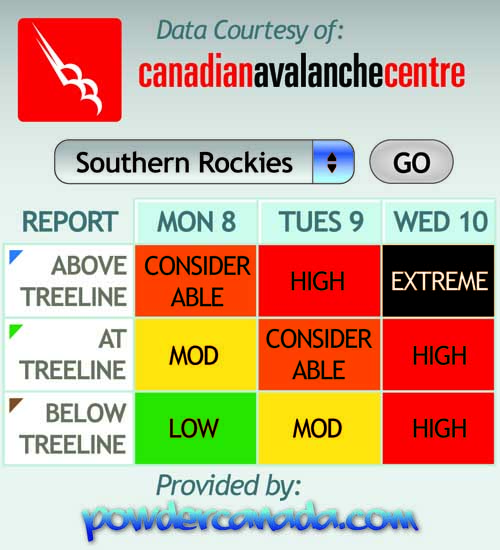 The objective of the CAC widget is to increase public awareness of the avalanche danger ratings contained in current avalanche bulletins. This will be achieved by making the widget available to webmasters to embed on highly visible locations on their websites. Presenting the bulletin information in high traffic locations will reach those people who will not make an effort to click through and read the bulletin. The widget presents the danger ratings in an easy to recognize format, using the ratings and hazard colours as defined by the CAC. The widget will also be formatted to function on Digital Signage networks.
"I defined the requirement for a quick visual reference for homepages and Digital Signage and concluded that it could work for everybody. I contacted the CAC and got their support to produce the widget" said Dan Savage, Director of SM. "In the big picture hopefully more backcountry users will travel safely with knowledge of the present avalanche danger as a result of seeing this widget."
CAC Operations Manager John Kelly welcomes this new application. "The widget provides a great entry point to our bulletins, which is our most important tool for helping people manage avalanche risk in the backcountry."
The widget is now live on many websites and can be added to yours. To generate the html code for your website, click to http://powdercanada.com/snow-conditions/caa/ and select your location as the default view. Copy the code and embed it in your website code.